How It Works
---
How Do Our Services Work?
Upon designing the form, you place a snippet of <HTML> code into the page where you would like to display the form. This snippet of code outputs the form from our form servers.


When visitors interact with the form, they send data to our servers for processing and validation.


After the visitor completes the form, the data is sent to you in an email and saved in our databases for your reporting purposes.

The Technical Stuff: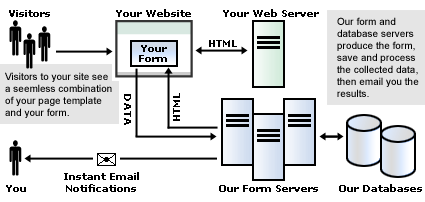 The Benefits Of This Design:
Platform Independence - We don't need to know what platform your webserver is running on.


No Programming Required - We take care of processing the form data and saving it to a database for you.


Immediate Updates - You can modify the form without changing the code snippet you paste into your web page and the form is immediately updated for your visitors. If you modify the height or width of the form – you will need to regenerate and paste the new code snippet.


Zero Maintenance - Internet attacks change on a daily basis. If you're allowing visitors to enter data into a form - you're vulnerable to many types of attacks. With our service - you don't need to maintain patches of the programming language or secure the databases - we take care of all that for you and do our best to protect your data.


Enter Your Information Below To Start Building Forms Today: